Indian D2C Startups raised 1.5b USD in 2021, while ecom enabling businesses raised 1.6b USD in 2021. It sounds counterintuitive that the tech that enables the D2C industry is raising more capital than the industry itself?
This will probably help make sense out of it – Shopify has over 1.5m merchants on its platform. Only a tiny fraction of these brands or merchants would have raised VC funding, but each of these merchants uses on average six applications or tools to enable their storefront.
Ecommerce enabling tech holds the promise of bringing the long tail of brands online and equipping them with the tools to offer the same experience that larger brands and e-commerce giants are able to offer. That is what makes it very exciting and that is why we continue to stay bullish on the space!
In our last post, we talked about E-commerce enabling tech and various slices and dices of the industry. We also talked about tailwinds defining the e-commerce tech business (Read more at The Rise of Ecommerce Enablers).
In the last one year, we've also expanded our portfolio to include Saleassist, ClearTrust (erstwhile botman.ninja), Mogi I/O, Sellergeni, ShopSe and Spyne.
As we work with our portfolio and learn from the active ecosystem, we can see the following emerging aspects further shaping the space and fueling its growth.
Headless Commerce – Decoupling of the Ecommerce
Amazon, eBay and other leading marketplaces led the first wave of e-commerce which brought the concept of online shopping to the consumer for the first time. With Shopify, BigCommerce and other storefronts enabling small sellers and other businesses to set up their own online store provided a further stimulus for the e-commerce growth. These sellers need complementary technology to consolidate orders and inventory, manage the supply chain and returns, and provide customer support. Given, we are talking about technology and providing a unique customer experience still remains one of the top priorities, we can't miss out on talking about Headless Commerce!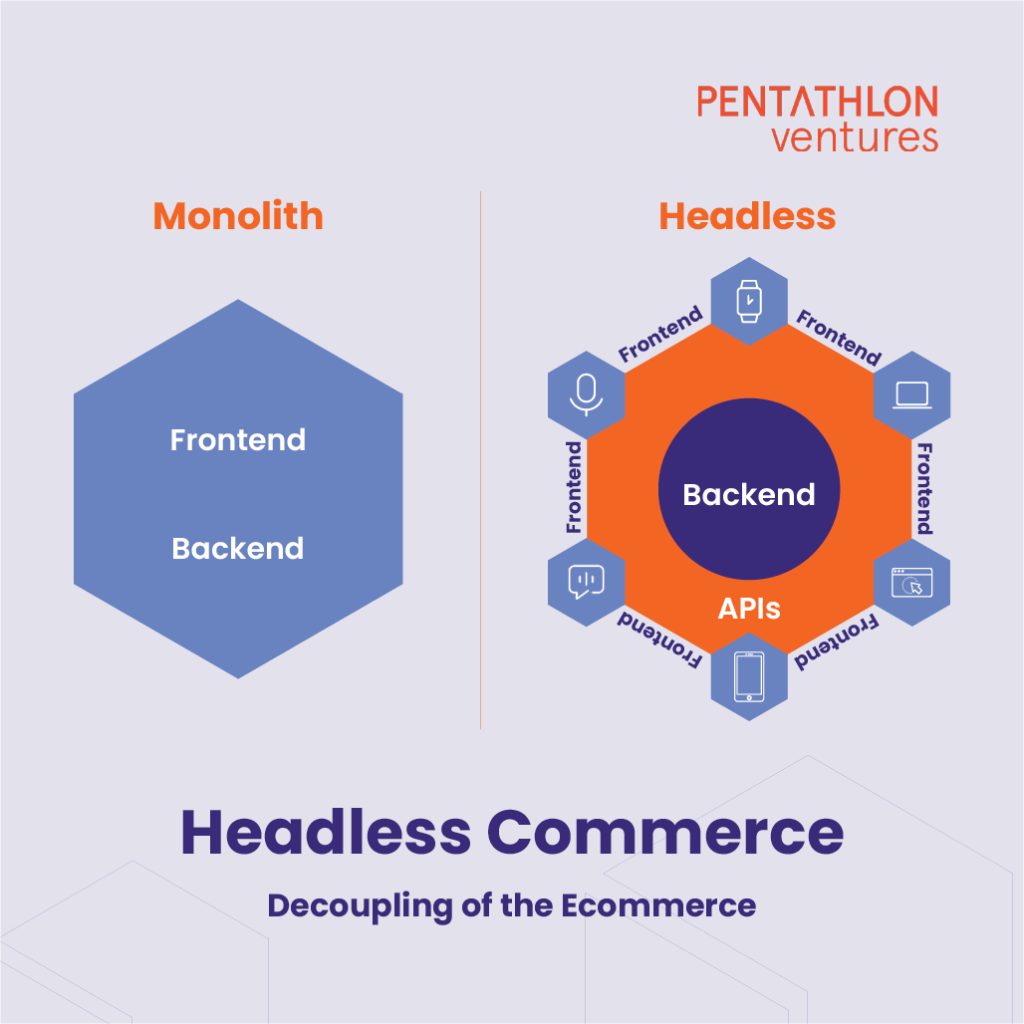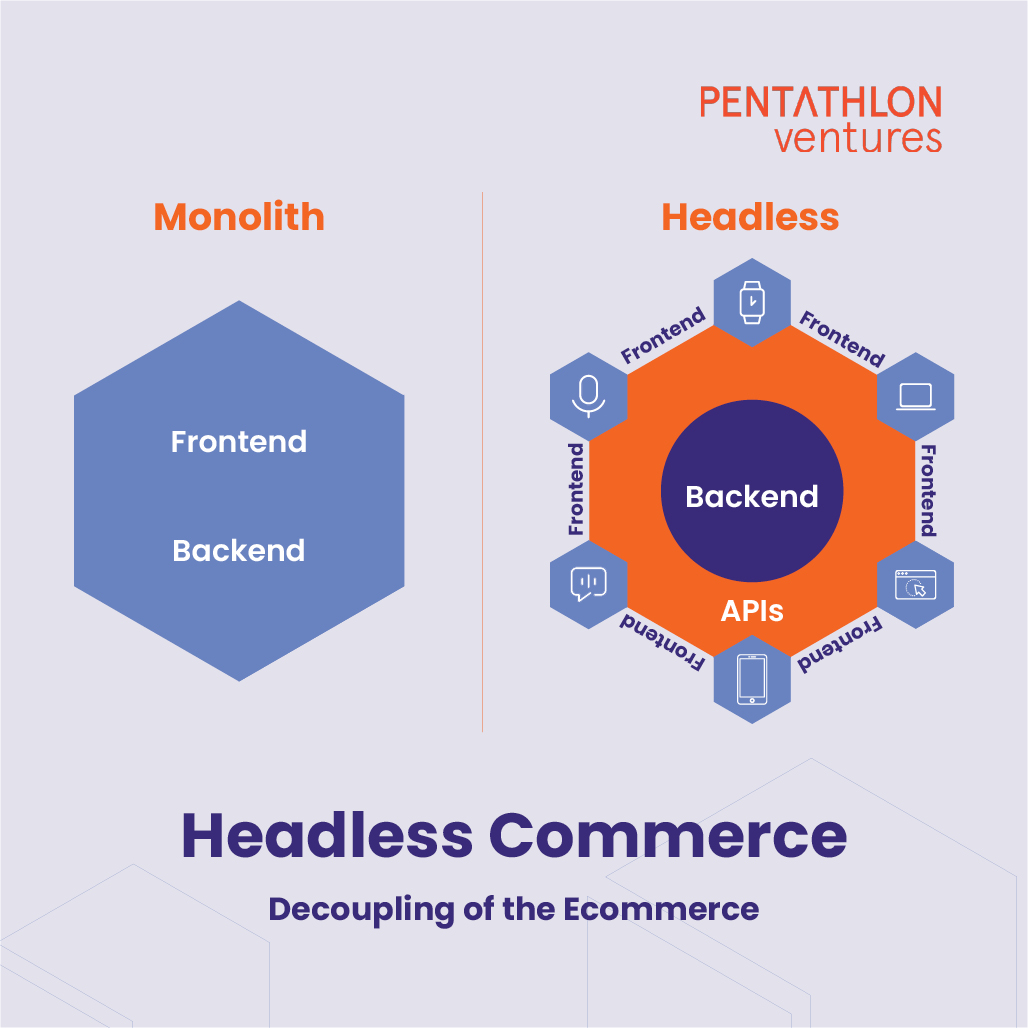 When the back-end e-commerce functionalities are tightly knit with the front-end layer, it limits the "customisation" which could be delivered to the customer. Decoupling the presentation layer can help brands, especially experience focused such as lifestyle, deliver a more personalised and content-led experience. While the traditional monolithic architecture comes with the advantage of full platform control, going headless opens the core components' connection to other environments and leverages powerful APIs. One example could be integrating a custom CMS to the front end to quickly customise the site rather than limiting to pre-defined experiences. With decoupling, the backend can be built more robust and far more generic and can interact with anything willing to send the correct API requests. The frontend becomes modular and doesn't have to deal with any processing, presenting a personalised experience to the user.
The real advantage of a headless approach is speed, flexibility and personalisation. We promise to bring you more detailed coverage on Headless Commerce and opportunities it gets to the founders to innovate, with the next one in the series of e-commerce enabling technology.
One of the Forbes articles quotes that "over $1.65 billion in funding has been raised for headless technologies over the last two years".
Online to Offline
The online to offline approach is being increasingly adopted to first identify the potential customers online and direct them to brick and mortar purchase as current statistics indicate that more than 60% of shoppers begin their journey online.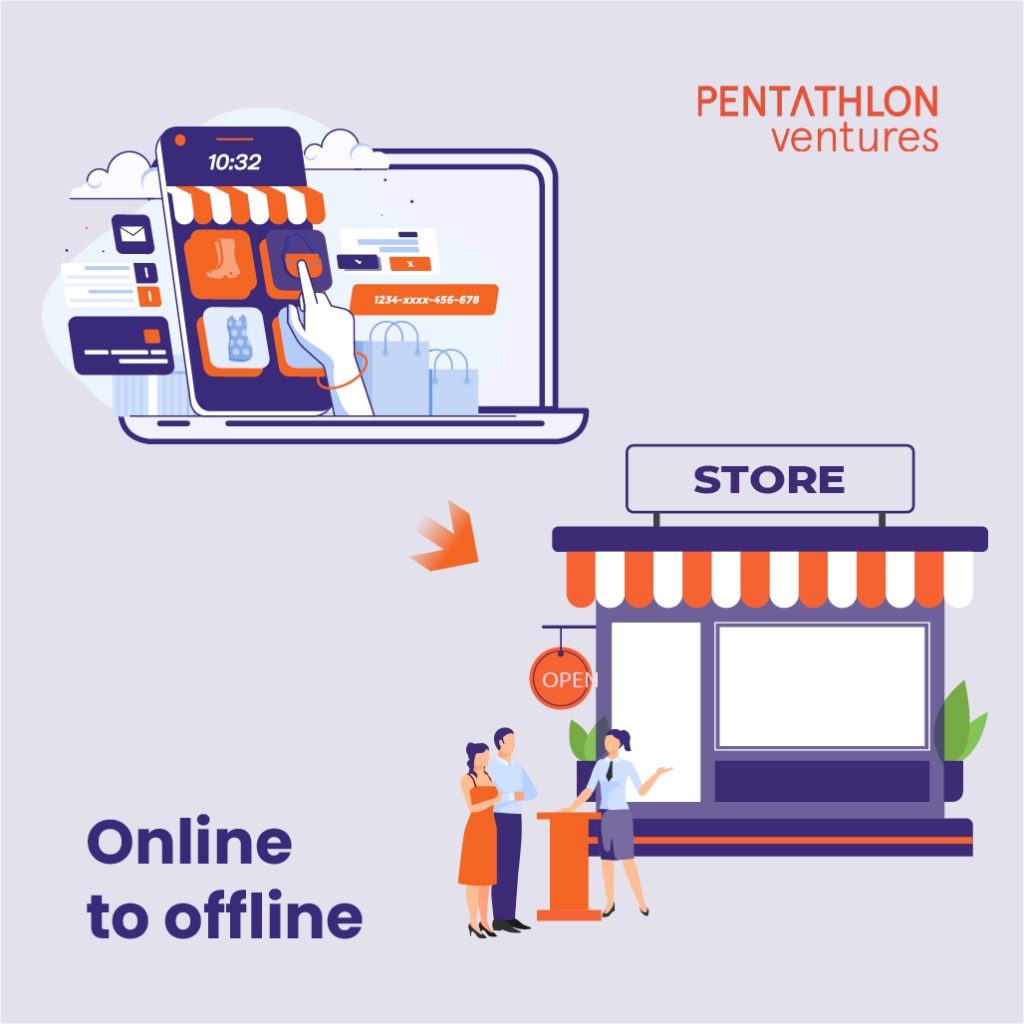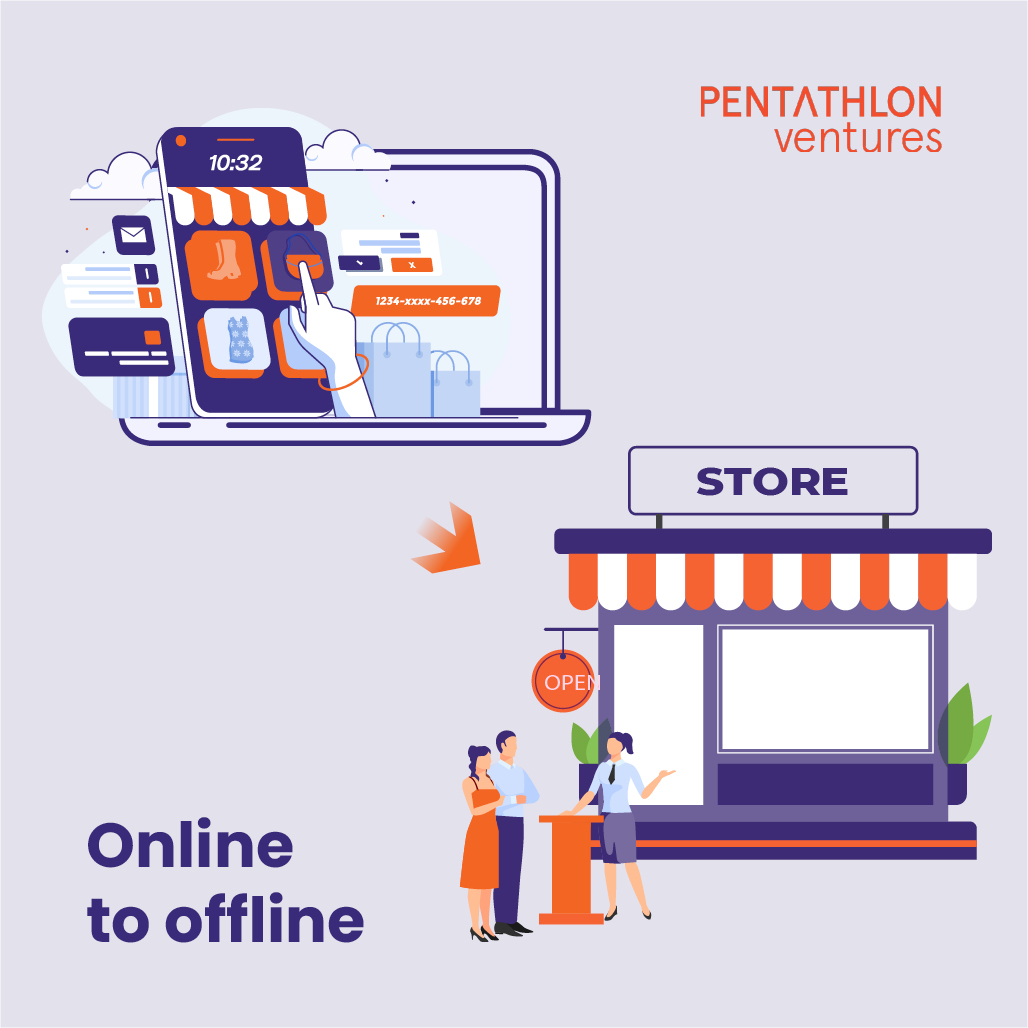 How this impacts a retailer's operations and productivity is linked to the ever-increasing customer expectations: in-store pickup of products bought online or an online purchase returned to a physical store. First, this requires a real-time inventory sync across channels, consolidation of supply chain and logistics network and bringing digital tech to a physical store. One great example is physical shoppers' preferences for digital checkouts – 87% prefer to shop in-store with touchless checkouts. Additionally, this setup needs a different marketing approach and retailers could also end up putting advanced in-store retail kiosks. The idea is to ensure the interaction across all touchpoints is consistent and make customers choose the best channel for them. It is both worlds coming together that opens an arena of playground for founders to build. There is also a growing need for tools to monitor the omnichannel user experience and capture interactions from channel-agnostic customers.
Some of the case studies on O2O (online-to-offline) Commerce include Amazon's purchase of Whole Foods and Walmart's acquisition of Jet.com. Another great example is how Alibaba approaches the O2O strategy, calling it "New Retail (Youtube Link)".
SaleAssist, one of our portfolio companies, offers Live Video Commerce technology, and is currently doing a pilot with leading retailers across consumer electronics, automotive and other sectors. This enables them to showcase products from the offline store to customers with the "tap of a button" over phone or web.
While e-commerce is growing at a significant rate, the retailers are cognizant that more than 80% of the purchasing is still happening in brick and mortar setup.
Hyper personalization
Sellers and eCommerce platforms have started accumulating vast data on their consumers. This data can be a potent tool to understand consumers' perceptions. Faster processing, analysis, and actionable insights can create a competitive advantage. Personalisation of product descriptions, optimising product specifications, and tracking customers' digital footprint can be substantially utilised. A deeper understanding of customers can help generate targeted advertisements and hyper-personalized marketing campaigns. A strategy that could identify the scope of personalisation in user journey, right from search to landing page and checkout, could also drive conversion and build loyalty. Gamification is one of the approaches which has recently been getting more validation with the leading consumer apps leveraging it.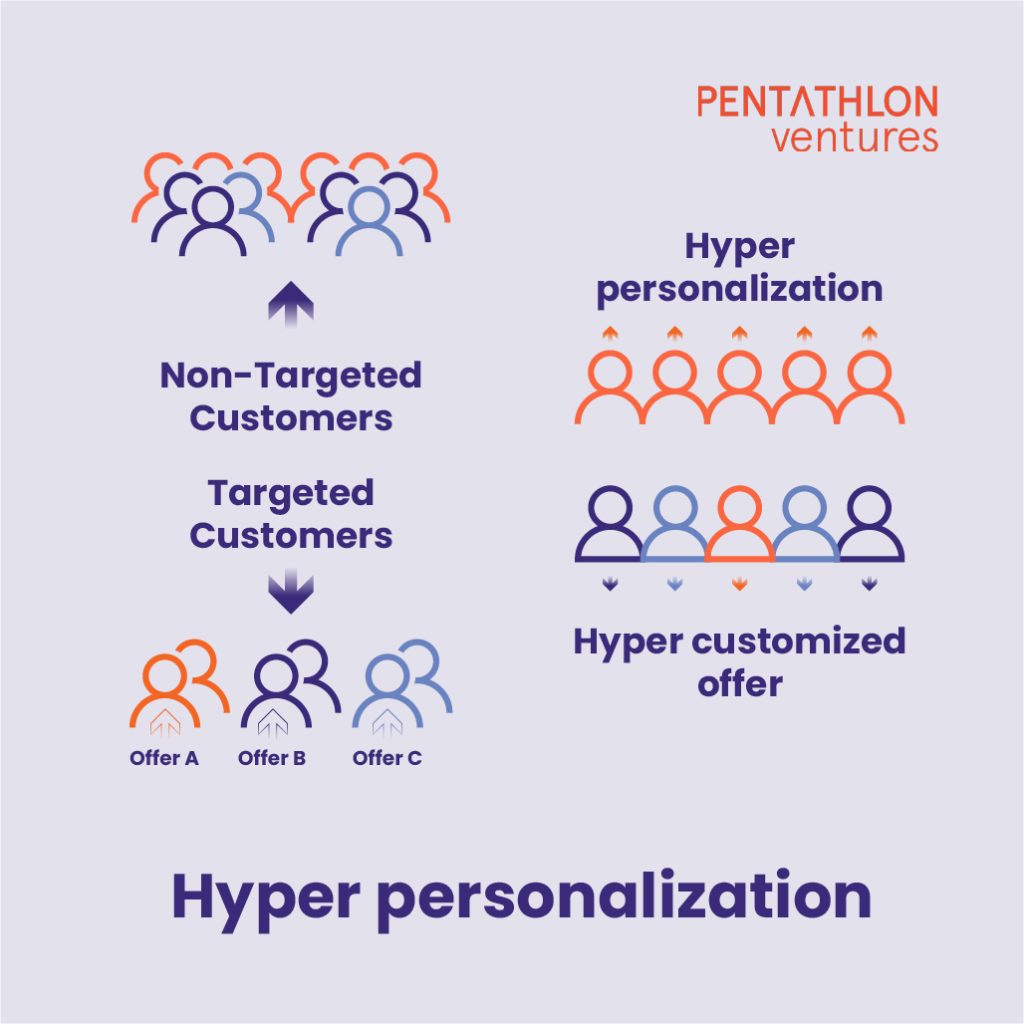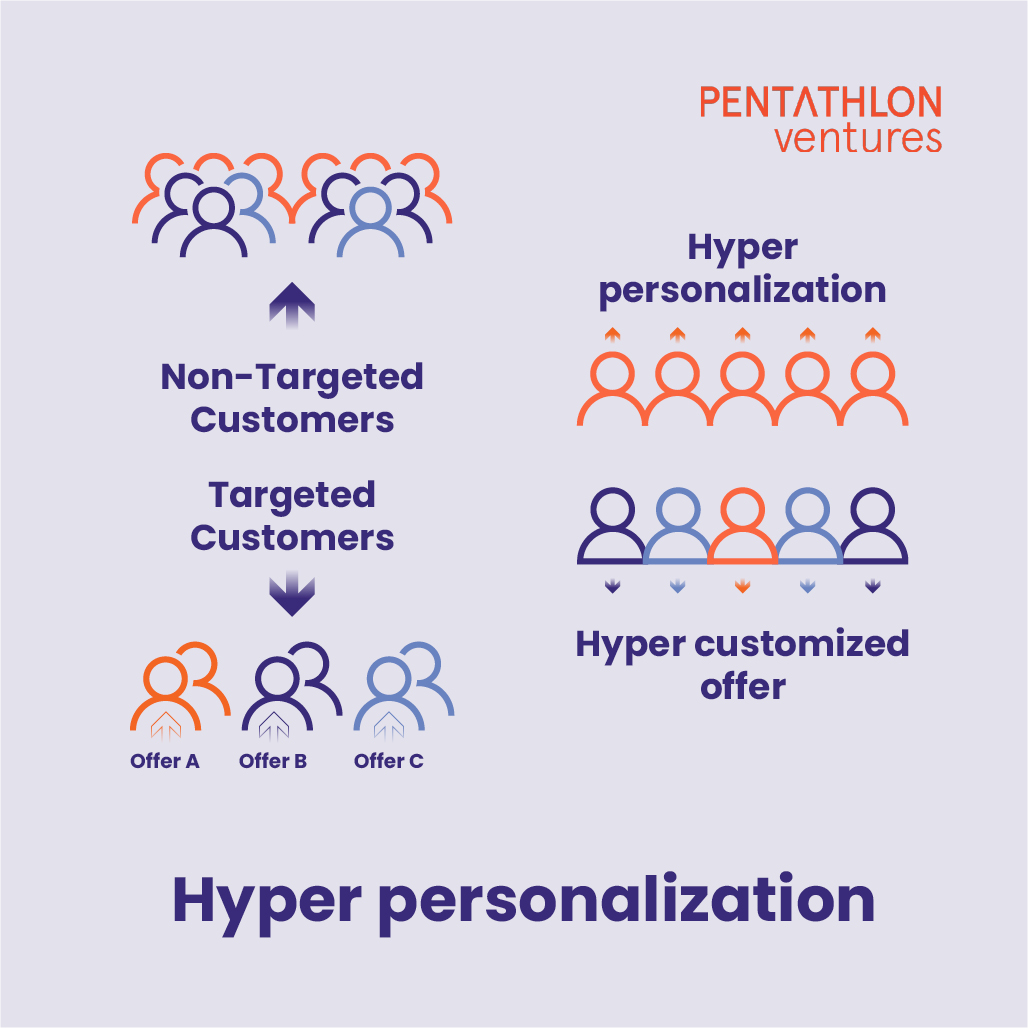 Netflix, a forerunner in the industry, has fine-tuned its customer portraiture to the point where its recommendation engine drives 80% of subscriber content selections, accounting for $1 billion in annual savings due to customer retention.
As a matter of fact, nearly ​​50% of online consumers are likely to return to a website that recommends products and marketers using advanced personalisation tactics.
The Shopper of the Future
The seamless integration of AR in ECommerce platforms gives customers the ability to 'try' a product instantly. Virtual clothing, makeup trials, vehicle customisations, appliance previews etc., are all made possible. AR is also highly engaging, keeping customers hooked. Of course, more time spent engaged generates more sales.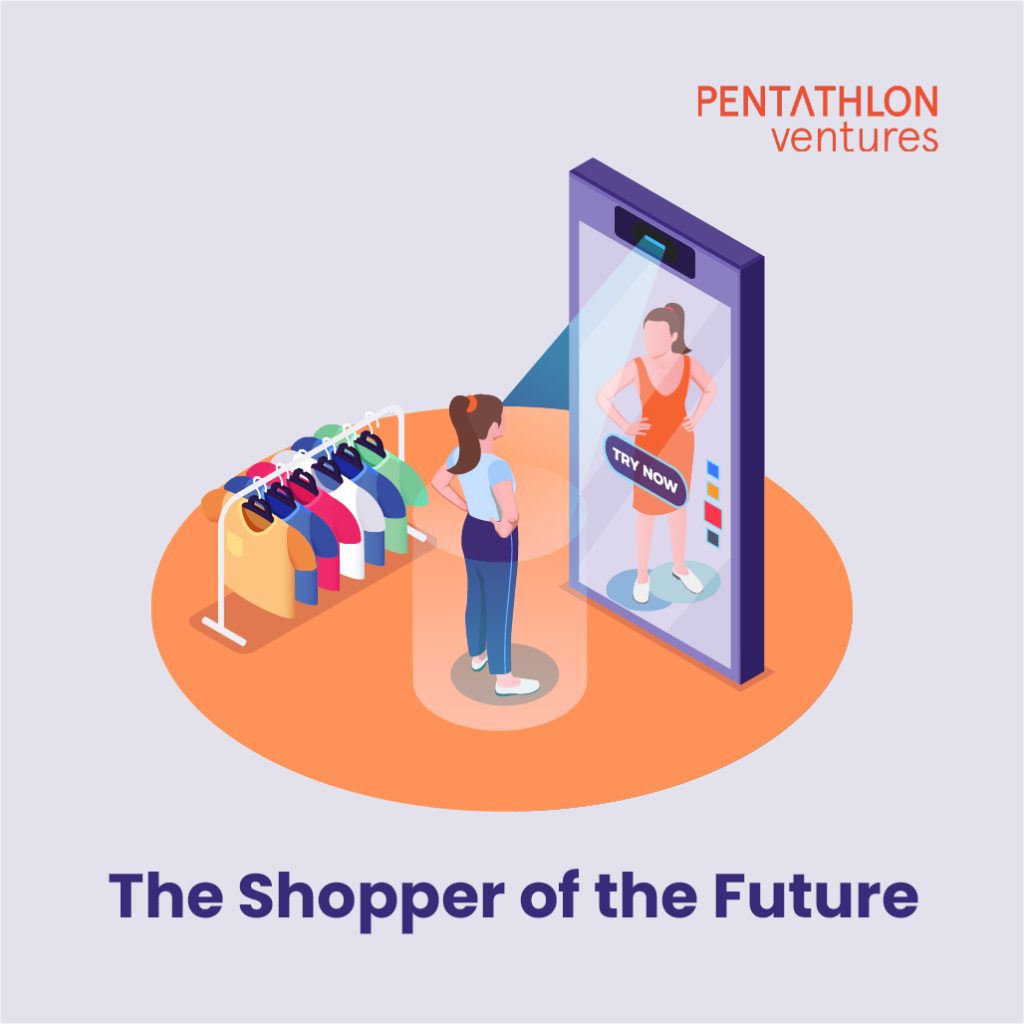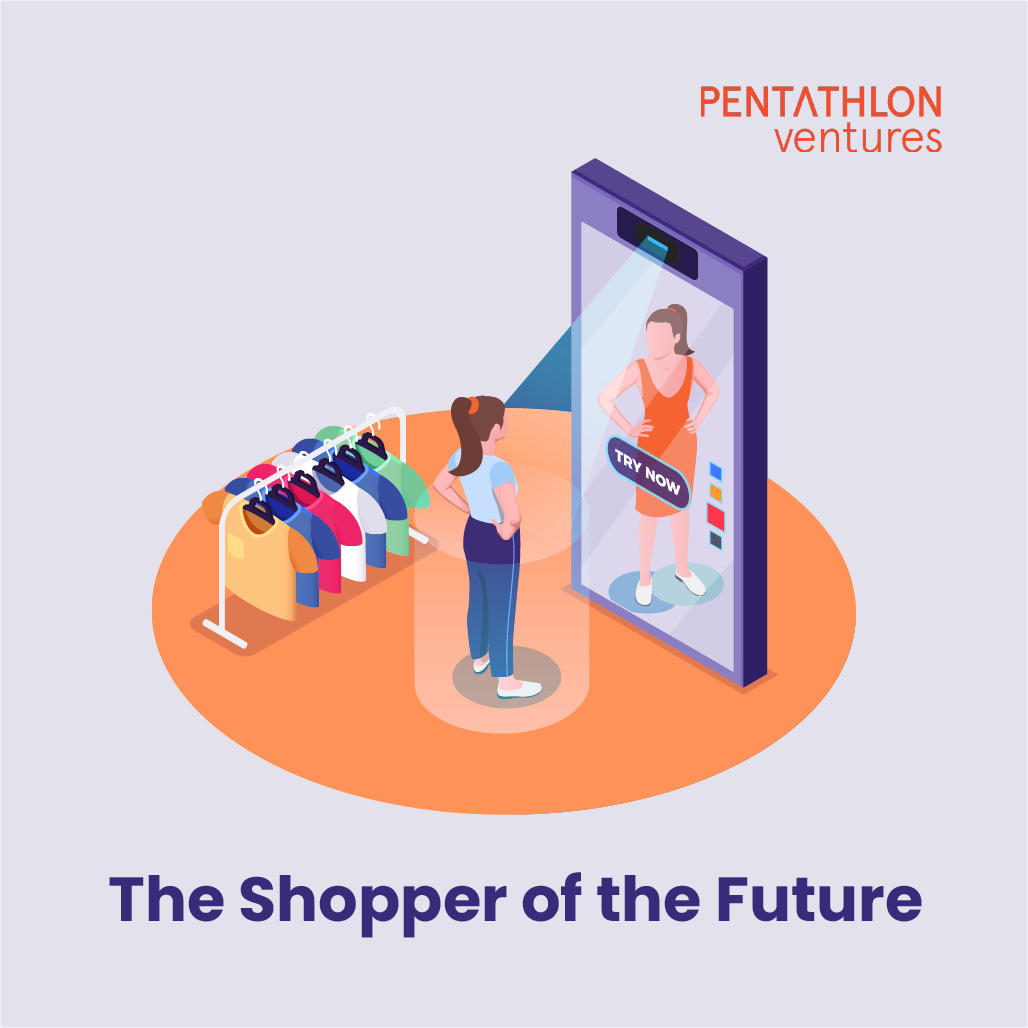 ModiFace, an AR try-on technology business, was bought by L'Oreal in 2018. L'Oreal claims ModiFace is a "strong driver of online sales acceleration, with conversion rates boosted 3X when ModiFace is accessible," with over a billion visits and an average of 7 minutes spent on its services.
There is a significant knowledge gap in the purchase process, and shoppers need simple but effective information to help them feel confident in their buying decision. This opens a considerable scope of recommendations and personalisation engines to not only nudge the customers towards purchase but also the cross-sell and upsell potential. Conversation AI and Video commerce are leading technologies that are already helping brands convert visitors to customers.
Cashierless shopping also has a strong potential though more in retail setup, which could leverage camera and sensors to connect customer's physical form to digital identity.This is also a strong use case for Voice search. Content and Commerce convergence would be interesting to watch out for in the near future.
As more and more shoppers jump to the online bandwagon, it is essential that brands start deploying some of the upcoming state-of-art technology and don't lose out on their fair share as the average abandonment rate is already hitting 70%. Another statistic is 27% of the global online population using voice search on mobile, which the e-commerce ecosystem could easily leverage.
While consumers are shifting from "physical" to "digital" shopping, we would be shopping for "digital shoes" soon in a virtual world – Yes, we are talking about "Metaverse". Leading consumer brands have already forayed into the metaverse, setting up a virtual replica of their physical store. Samsung announced the opening of a virtual replica of its iconic New York physical store in Decentraland Nike announced its collaboration with online gaming company Robolox to create a 3D virtual space called Nikeland. Last year, Adidas also announced that its next collection will be a mix of digital and physical items, and will be sold as NFTs produced with collaborators such as Bored Ape Yacht Club.
Building a Community: The Recipe for Growth
Ecommerce enterprises that can put the customer at the centre of their product can unlock new and exciting avenues for growth.
Communities and forums with multiple 'spaces' allow users to share varied content to cater to their community's different interests and purposes. Communities can be a great source of user feedback and inputs for product innovation, a sort of megaphone for customers to tell you how you can make the product better. Users provide support and guidance to each other, substantially reducing support costs. Communities also make it easier to identify and resolve recurring concerns. And, of course, user activity enhances engagement and attracts new users, leading to increased sales and word of mouth.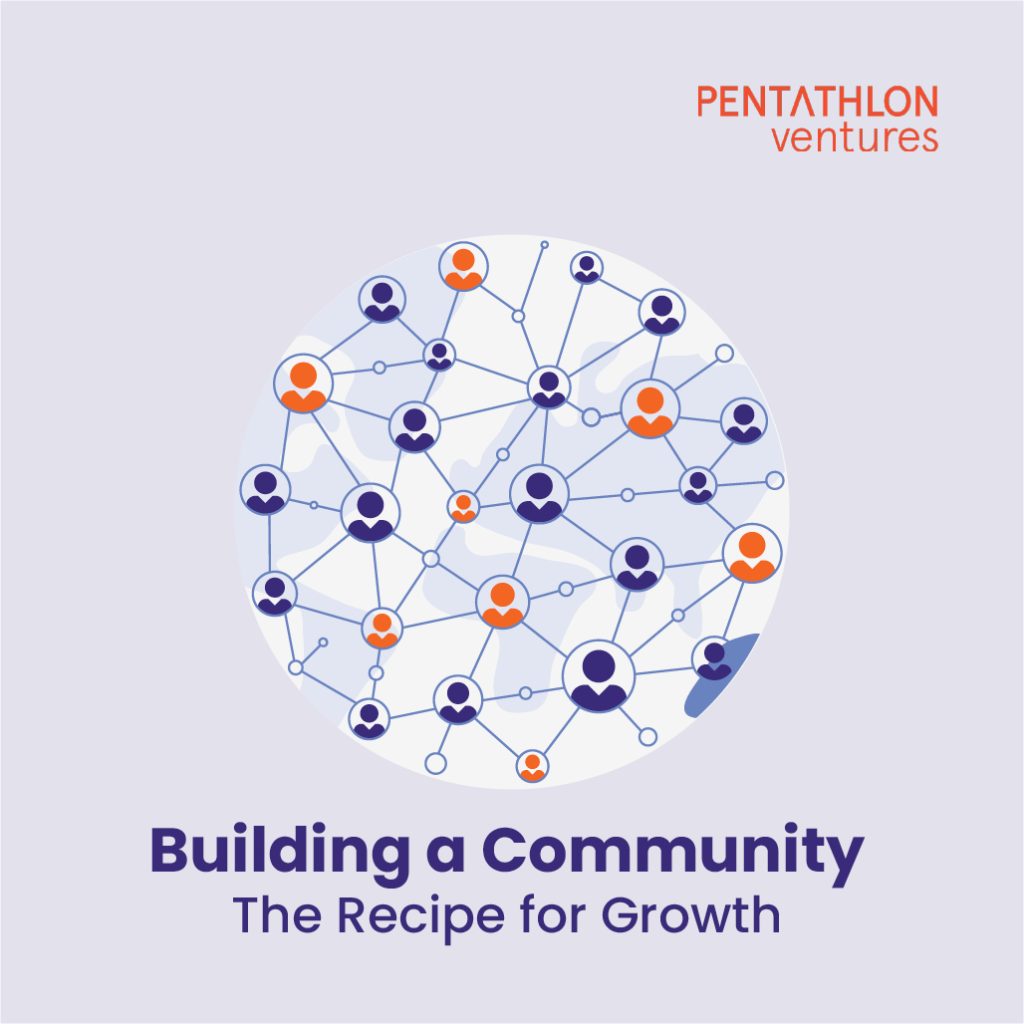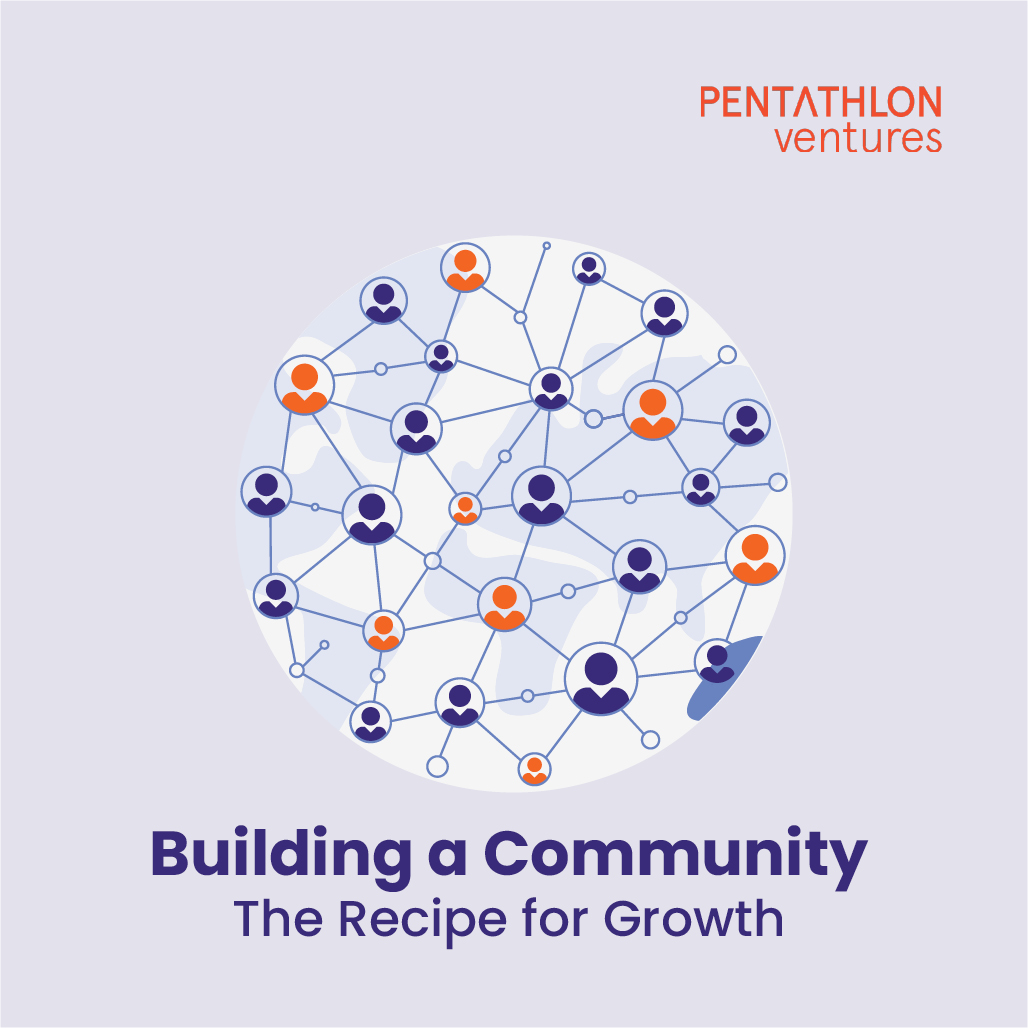 The Shopify Plus Community is a Facebook community run by Shopify. It's a closed group, and one can only join if they're a Shopify Plus Merchant. Community members share their experiences, allowing inexperienced sellers to quickly learn the methods used by high-volume merchants.
Sephora'sBeauty Talk is a vast, well-organized forum where users can ask questions, discuss ideas and have their beauty problems addressed by other users. Their Beauty Board provides an additional option to interact with the community.
Whether it's D2C brands or SaaS enablers, both are leveraging community as a go-to-market strategy and connecting with their larger audience. The opportunity is ripe for building and offering solutions that can help businesses build community GTM functions at scale. Overall, building a community can help entrepreneurs bring an ecosystem of a target audience, customers, partners and followers on a central platform and build it together instead of just marketing products to people.
Recent data highlights that 75% of the large companies had at least one online community in 2020 and for small businesses, the number is at 40%. 
While e-commerce giants across the globe will invest tons of resources on the technology end to provide best in class shopping experience, there is significant opportunity for startups to provide technology led offerings which could enable D2C brands and retailers to provide similar experience.
What trends have you observed? Let us know in the comments.
By : Saurabh Lahoti and Navjeet Kumar