To predict the future of an industry, one has to reflect back on the history and the evolution of the same.
At Pentathlon Ventures, we have been an active investor in the e-commerce enablement space and have built a portfolio of ~7 companies which caters to e-commerce. Being an active investor, we can see that e-commerce is an industry that is rapidly changing and evolving. This inspired us to do a deep dive and share some perspectives with our community through this 3 part series.
So let's take a walk through history to understand how retail has evolved to this stage in this part of the series.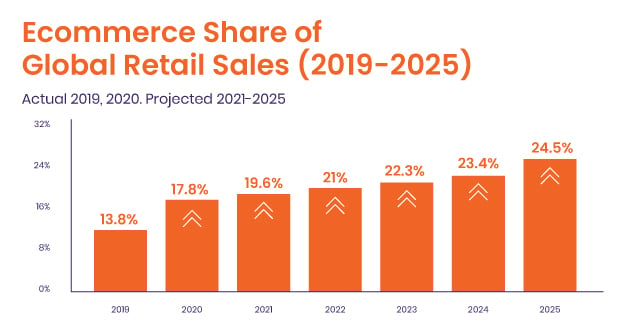 The evolution from "shelf space" to "mind space"
Walmart gave birth to the "big box store" model of commerce – with a large retail footprint and an assortment of products to choose from. The success of a brand now meant driving attention to shelf space and getting mass distribution through Walmart's network of stores. Smaller mom-and-pop stores could not compete with this strategy and Walmart remained the retail leader for many decades.
Fast forward to the growth of the Internet where shoppers were put at the centre of the ecosystem and were given more power. With just a few clicks, they could choose from a large online catalogue of products and get them delivered right to their doorstep. The metric changed from 'how to get the customer to the store' to 'how to bring the store to the consumer'.
The Rise of Amazon
After the role of physical stores changed, retailers had to come up with a new plan for inventory management. A new player, Amazon, recognized this need before anyone else.
Amazon redefined the concept of a market ecosystem by creating a marketplace of products of third-party sellers. They were the first true e-commerce enablers and a major part of their revenue and eventual success were the sellers listed on their marketplace.
Amazon optimized their inventory in a way that they could sell the same products a retailer could at better margins. They also understood that reducing delivery time would require ownership of a key distribution aspect: warehouses. Unlike other retailers, Amazon has a large footprint of owned warehouses with an efficient inventory management system fulfilling two critical functions:
Reducing delivery time and transportation costs across the value chain
Leveraging data over time to store products based on past consumer needs
Soon, it leveraged the data on its platform to understand customer needs and started creating its own private label brands. Retail came full circle and smaller merchants found themselves back at the mercy of a bigger retail player.
The beginning of Direct-to-Consumer (D2C)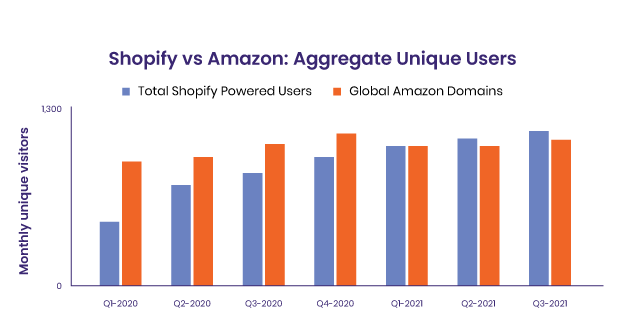 While Amazon was celebrating their latest success, another startup was making headway in the ecommerce space. Making a giant leap from selling snowboarding equipment, they have now famously come to be known as Shopify. They identified the need to tie together the various solutions available to merchants in a single platform. How did they achieve this, you might ask? Here's a look into their growth map:
Launched platform as the single hub for launching an e-commerce store.
Launched an App Store that provides plugins for different use cases such as subscriptions, point of sale, loyalty rewards, etc.
Launched a Theme Store to help merchants create professional websites of their own
Shopify was charting its path from a tool to becoming a platform. For that, they used one of their biggest hacks to growth – integrating with two other giant platforms, Apple and Facebook.
First, they leveraged Facebook's advertising platform for customer acquisition and integrated tools with Facebook's suite of products (Using FB messenger chat on Shopify)
Next, they integrated with Apple Pay for payment, thus increasing speed, convenience, and customer security. This eventually gave e-commerce merchants a quick check-out solution.
Shopify now has the potential to turn from a platform into an ecommerce ecosystem and has Amazon in its sights. Two key statistics have emerged to suggest that it is well on its way to compete with the retail giant –
Shopify accounted for 8.6% of U.S. e-commerce sales in 2020, well behind Amazon's 39% but ahead of Walmart and EBay (Bloomberg)
They surpassed Amazon in online traffic, with 1.16 billion avg. monthly unique visitors during Q2 2021, compared to 1.10 billion for Amazon (Business Insider)
Most importantly, Shopify will now be at the epi-center of the upcoming global e-commerce expansion upon which merchants can build e-commerce stores. As an e-commerce enabler, the story of Shopify has 2 major takeaways –
E-commerce is now operating in two states – low-trust and high-trust. It is crucial to be able to build in both these states.
E-commerce stores will need to be "enabled" at various touchpoints of the customer journey as retail gets more phygital and customized.
A New Spectrum of high and low trust
Until recently, there was the notion that e-commerce works online if it's quick, convenient, and cheap. Just spend massive amounts of digital advertising to get the consumer on your website and then make sure you deliver a cost effective product at their doorstep. Although this method is still prevalent, there is another set of consumers who think differently.
Imagine buying clothes for a party. From a consumer perspective, the value of the clothes is not just in their price and convenience of buying. They will think twice and look at both external value (brand perception) and internal value (sustainability of the product). This is because the brand as well as the purchase is seen as an extension of the consumer. At that moment, the price of a product might not be the deciding factor, but simply the entry point to a purchase decision.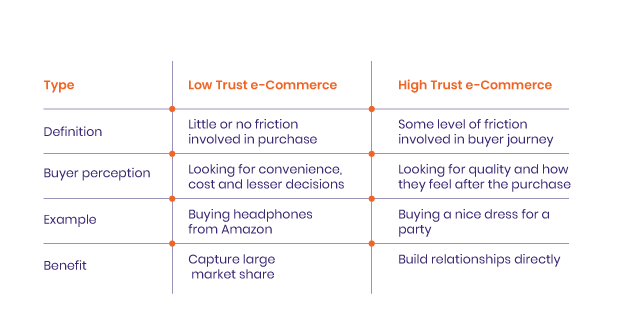 This new state is called value e-commerce. It is characterized by value-conscious shoppers with a distinctive purchase behavior.
It is important to note however, that these are just two different types of systems / mechanisms and there is no right or wrong system.
Scaling Across the Value Chain
To enable merchants to scale, 3 core areas of retail need to be focused on – shopping experience, marketing, and payment methods.
Whether you are a marketplace or a D2C store, the buying journey starts online. During the journey, however, the course can change at any point depending on the needs of the user. This needs to be taken into account while creating new solutions for scale.
For example, Lenskart is building offline stores to complement their online presence. This will also give freedom and choice to the shopper to purchase, return, or browse through products at their convenience. Buying directly from an Instagram feed, sending recommendations on WhatsApp, retail store checkout with delivery at home are just some examples of how varied the customer buying journey has become.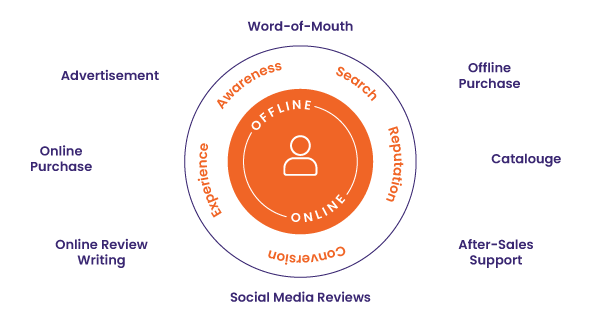 As the competition between emerging vertical D2C brands (Bombay Shaving Company, Mamaearth, etc) and incumbent horizontal marketplaces (Flipkart, Amazon, etc) is increasing, digital advertising has become a saturated battlefield for conversions.
Customer acquisition has evolved from physical branding to data-driven advertising and now to hyper-personalisation. This has also given rise to different types of commerce such as experiential and social commerce. With new modes of shopping, also come different marketing strategies and channels. Brands no longer sell just the product, but the experiences related to it.
Smaller merchants have an advantage here as they can quickly run A/B tests to see what works using plug-and-play solutions.
Although UPI and other forms of cashless payment have seen tremendous growth and success, India is still a cash-on-delivery economy if you account for rural areas. Returns and refunds are also a massive part of customer experience. As these users adopt the online shopping experience, methods such as "buy now pay later" or instalment-based payments should be built into an ecommerce platform.
Retail is now poised to be upended by e-commerce, not just as a way of consumer-shopping but as a way of operating a retail business. Now, businesses from Walmart to Amazon to Shopify need to adapt to the new-age retail that is omnichannel, hyper-personalised and customer-centric. Considering the huge Indian internet base that will soon shop online, we are set for an exciting stage of e-commerce!
This is Part 1 of a 3 part series where we will next focus on the emerging tech solutions for long tail of D2C brands and ecommerce. The last series will highlight various opportunities that will define the future of e-commerce.
By : Saurabh Lahoti and Navjeet Kumar