Ever feel like you're caught in an endless cycle of monotonous tasks that are stealing your productivity? If so, you're not alone. Many companies are constantly on the hunt for innovative solutions to automate these routine tasks. By doing so, they free up valuable resources, boosting productivity and eliminating manual errors. But as a company scales, the stakes increase, and any missteps can lead to significant losses. That's where the power of workflow automation comes in, turnin;g your growing pains into sustainable gains.
The Power of Workflow Automation:
Workflow automation is your secret weapon in the battle against inefficiency. It's the digital magician that takes your repetitive tasks and automates them, freeing up time for you to focus on what really matters. These tools typically come with a no-code or low-code interface, complete with drag-and-drop process builders that cater to both tech-savvy and non-tech users. The result? Efficiency and reliability that doesn't compromise your business rules, and a clear return on investment through increased productivity, transparency, and scalability.
Workflow automation is frequently discussed in the context of business users automating specific tasks such as reporting, assigning tasks, project management, etc, but its potential for building and scaling products is equally substantial. Product leaders and developers also have an abundance of repetitive tasks and they can also gain greatly from automation. Whether it's in reusing code modules, expediting deployment or rolling out integrations, workflow automation can provide considerable enhancements in efficiency and productivity. Up next, we'll detail these specific advantages in the tech arena.
The Perks of Workflow Automation: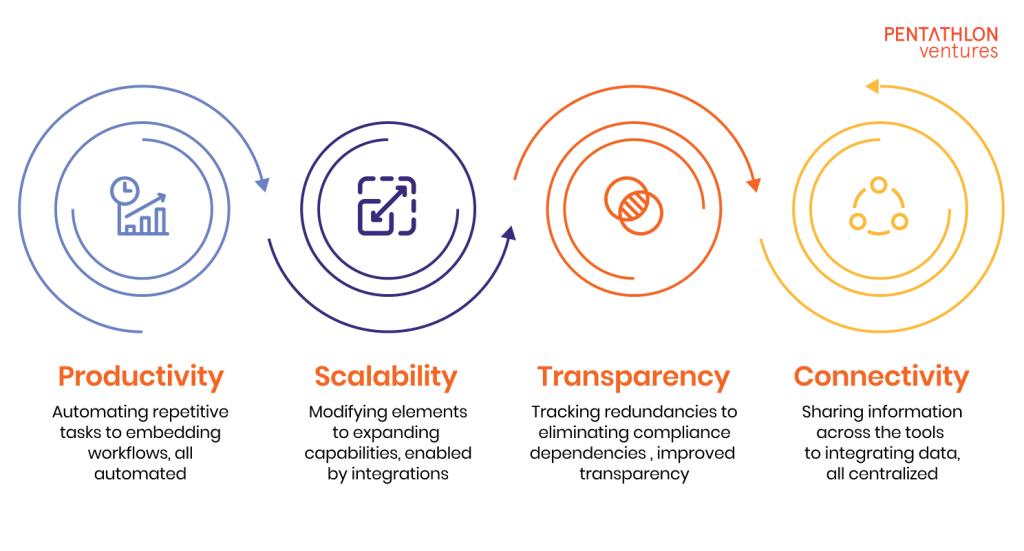 Supercharge Productivity: Forget the time-consuming process of building integrations from scratch. Workflow automation equips you with embedded integration tools for instant deployment of customized integrations and seamless data connectivity. Experience a remarkable boost in productivity as you conquer tasks faster and with precision.
Unleash Transparency: With workflow automation, transparency becomes your superpower. Identify and resolve code errors swiftly, manage product development iterations effortlessly, and stay up-to-date with real-time status updates. Gain the clarity you need to eliminate redundancies and maintain uninterrupted workflows.
Connect with Ease: As a tech professional, you're always on the lookout for tools that facilitate data pipeline connections and enable essential functionalities through APIs or SDKs. Workflow automation is the missing link you've been searching for. It ensures faster time to market and caters to a broader audience, enhancing your connectivity game.
Scale Limitlessly: In an era of micro-SaaS and expanding software usage, scaling integrations across functions is vital. Workflow automation is your trusted companion in this journey, empowering you to extend product capabilities effortlessly and embrace modularity at its core.
Automation in Action: Real-World Examples: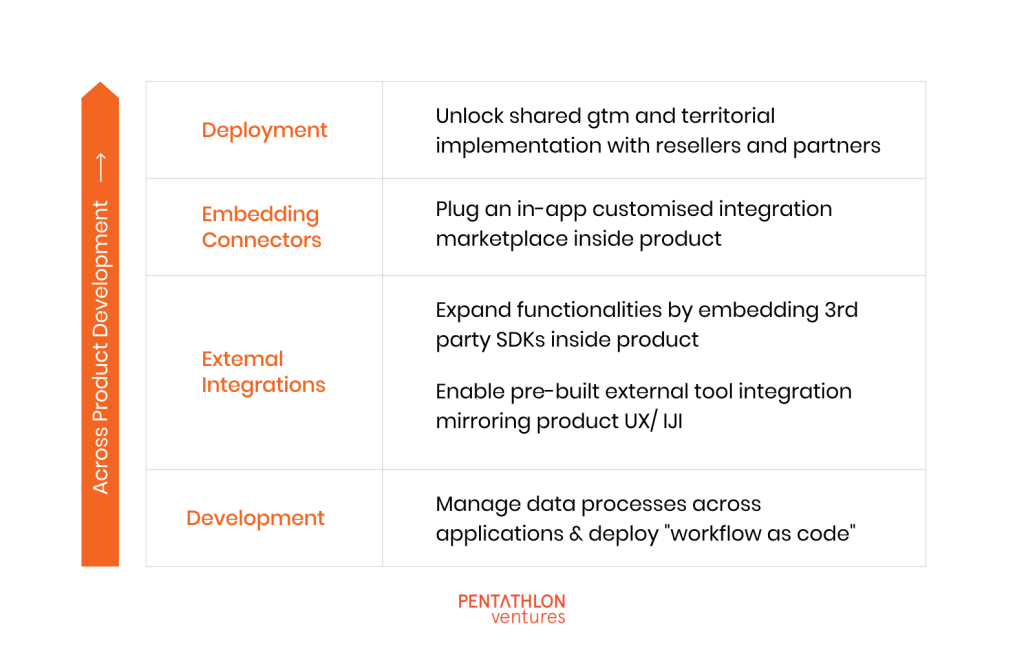 Integrations are vital for tech founders to enhance user experience and expand the range of targeted use cases. Beyond integrations, product development teams seek tools to automate repetitive workflows in the development journey. There is a growing preference for discovering a comprehensive set of connections that enable seamless information sharing between apps.
Prioritizing ease of use, and creating in-product workflows and integrations is essential. However, developers building integrations may only cover some customers' preferred tools. Product leaders now seek solutions that offer pre-built connectivity, customizable automation workflows, flexible embedding options, and powerful APIs to meet customers' integration needs effectively.
Here are a few examples of how these tools can supercharge your product development:
With Integry, product teams can offer pre-built integration that mirrors their product's own experience and UI and can also embed flows inside the product with Integry's SDK. You can also roll out an entire integration marketplace for your product. To understand the integration marketplace, let's take an example: Let's say you are building a CRM software and want to enable integration with Mailchimp, Asana, and other such tools – Integry fits the requirement. You don't have to write a single line of code.

Pandium can enable you to plug an in-app customised integration marketplace for customers. You can customise the UI, define categories and embed it into your product. It also allows to review and publish partner integrations and share analytics with partners.

Celigo embedded solutions provide native integrations instead of building them from scratch. Native integrations primarily mean when an application provides a direct interface of integrating with another application via APIs. Gappify, a maker of accounting bots, leverages Celigo for the integrations between its product and customers' accounting systems.

Paragon can help engineers offload integration complexities. They can Install Paragon SDK and instantly enable integrations with a library of built-in connectors, or build their own connector with any SaaS API. They provide fully managed authentication on any integration and a native, white-labelled configuration UI.
Zenaton is a workflow builder for developers to manage data processes across applications and deploy "workflow as code". This could launch workflows within the application when an event occurs. Each workflow instance can represent a unique path for a customer or process that is determined by conditions, data, or events that occur (i.e. new order).

Using Workato's embedded solution, you can enable customers to integrate with 1000+ SaaS apps, databases, AI services, and APIs without writing any code. Additionally, you can also use Workato's SDK to build your own connectors in case of any on-demand requests from your customers/users.
Zapier's Embed Solutions: You can embed Zapier inbuilt integrations inside your own product UI which could enable customers to discover and connect the apps they're already using.

The Last Word:
Whether you're a Chief Information Officer (CIO) or a skilled developer, it is vital to gain a comprehensive understanding of the intricacies of the workflow you intend to automate. Take the time to assess the existing products available, ensuring that their features, pricing, and other requirements align with your specific needs. While many of these automation tools have a broad application, some have specialized in addressing unique utility, stage, and scalability demands.
Workflow automation initially emerged as a means to seamlessly facilitate the movement of data, information, documents, and tasks across different departments or the entire organization. However, its scope has since expanded, empowering product leaders and developers to expedite product development and deployment. The benefits are far-reaching, ranging from reduced time to market, enabling swift integration rollouts and releases, to the construction of distributed workflows on a large scale.
With the ability to orchestrate multi-step processes based on responses from various APIs or data sources, both internal and external to the product, product leaders and developers gain the power to streamline operations efficiently. Embracing workflow automation paves the way for smarter, more scalable Software-as-a-Service (SaaS) solutions.
Ready to embark on the journey toward a future of enhanced efficiency and productivity? Embrace the potential of workflow automation and unlock the full power of your organization's capabilities today!