Think back to your last purchase. It could have been a high-end watch or groceries for the week. Chances are that you purchased them from an e-commerce website rather than a brick-and-mortar store. You are not alone; as per a survey by Localcircles, ~49% respondents chose e-commerce websites and apps as their preferred mode of shopping. A further 18% said they choose home deliveries even from their local retailers.
Technology for Shopping
Shopping in India is undergoing a massive transformation. E-commerce businesses are offering stellar buying experiences (targeted advertisements, free and same day delivery, massive discounts) and consumers are spoilt for choice. As the masses flock to online shopping, offline retailers are feeling the pinch. Lockdowns in the past 18 months have further pushed consumers towards online stores.
Offline retailers are struggling with decreasing sales and looking for viable channels to grow. Building an online presence is one of the ways in which many businesses can offset declining sales in stores. The challenge for them is to build an experience for their customers that matches the quality and scale of market leaders like Amazon and Flipkart. They need technology to build an omni-channel setup (for a seamless experience across devices), to generate customer traffic through targeted advertisements, to consolidate logistics and supply chain and to integrate offline and online experience.
This is a huge opportunity for technology start-ups to become enablers for brands and retailers looking to create world class e-commerce businesses.
Shopping for Technology
Rise in D2C brands, bundling of socializing and shopping, mobile-first commerce and convergence of online and offline channels are driving growth in the e-commerce space. Investors are betting on the speed and convenience of online shopping to push the next wave of e-commerce.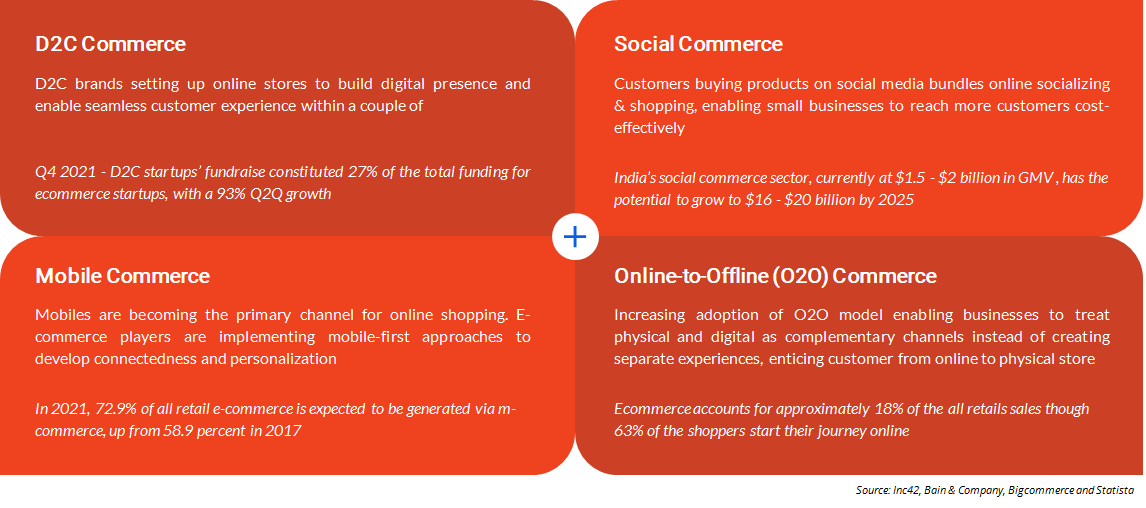 Drivers of Growth for E-commerce Enablers
E-commerce enablers like Shopify, Magento and few others have been in this space for a long time, facilitating brands and retailers to operate online. The mainstream offerings from these players range from the core elements like multi-channel selling, order management, payment processing to logistics and supply chain management. While these are vital to building an e-commerce business, they are not enough to set you apart.
Some of the core value propositions that a brand or business should focus on while building a customer-centric e-commerce platform are outlined below: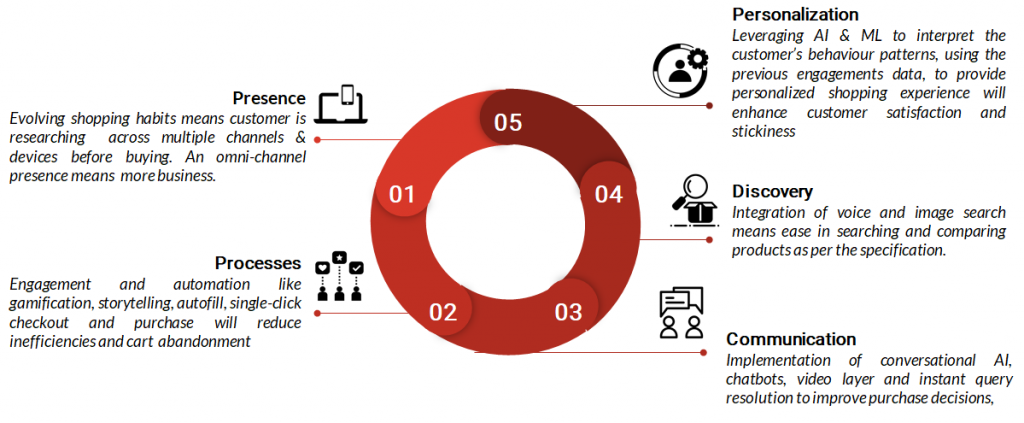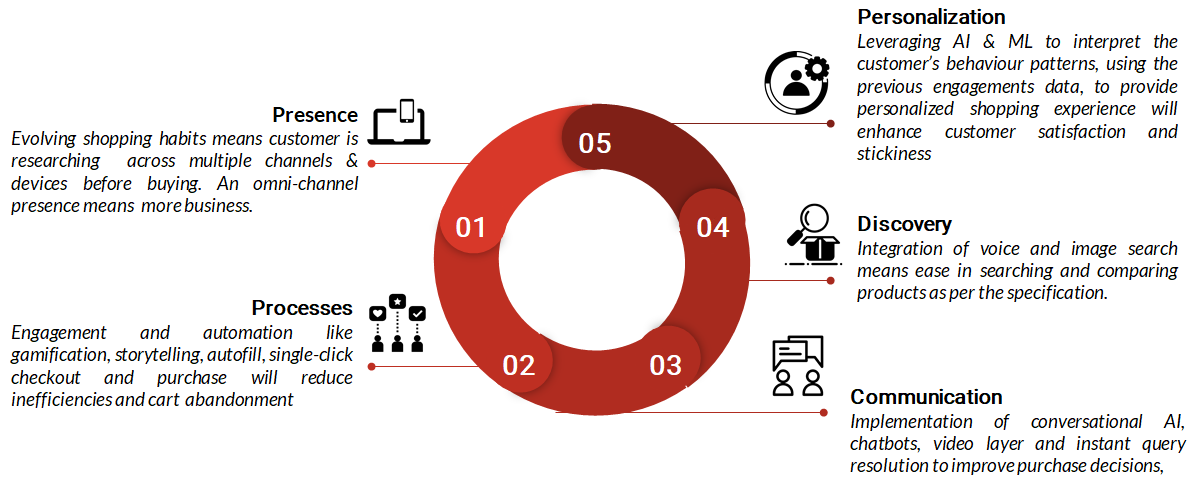 Value Proposition that Sets You Apart
To build a viable e-commerce business, e-commerce enablers today need to leverage state of the art technologies. On the customer end, this would require technology for integration of personalization and recommendation tools, shopping assistants (supporting text, voice and video), and a gamified and hassle-free checkout experience. The business end will need advanced tools for returns management, workflow automation and vendor on-boarding. Further, a comprehensive stack view on the building-blocks of the enablement ecosystem is provided below: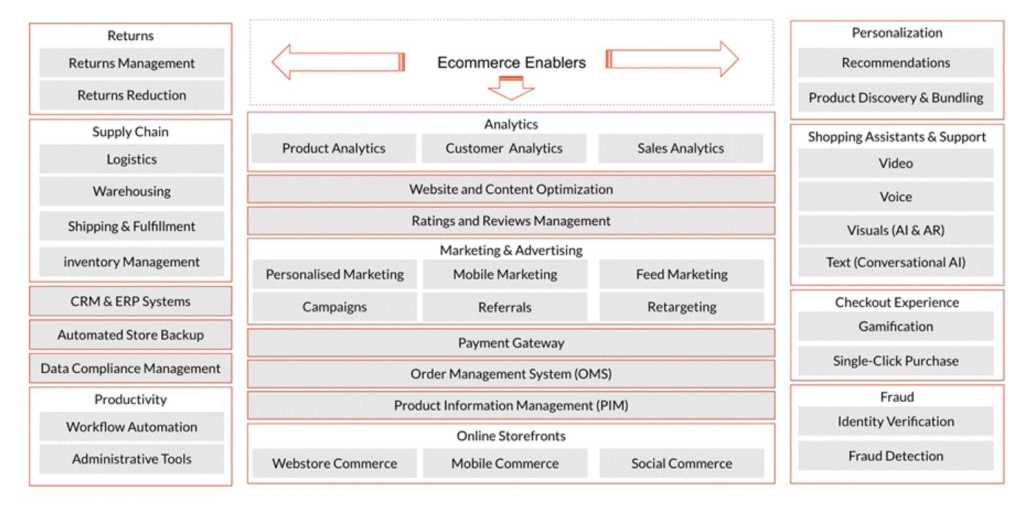 E-commerce Enablers Landscape
For a business, technology is a means to an end of creating a successful digital presence. But simply using advanced technology is no guarantee of success. For a deeper impact, any technology must be used in conjunction with the core values of a brand and must build on it. As a brand or retailer, using technology to build a customer centric e-commerce platform is what will set you apart from the pack.
E-commerce enablers are the most active set of start-ups for investors. As per Tracxn, they received an overall funding of USD 5.1 billion in 2020, compared to USD 2.7 billion in 2018.
Some of the highlights of investment across stages in 2020:
~39% were invested at Early Stage (Series A and B), ~59% at Late Stage (Series C and above) and remaining at Seed.
While the dollars invested ($) at Early Stages (Series A and B) have grown at a CAGR of 25% during the period of 2016-20, the number of total rounds have slightly declined indicating a significant upgrade in the median cheque sizes.
The dollars invested ($) at Later stages (Series C+) have significantly grown at a CAGR of ~47% along with the number of rounds also growing at a CAGR of ~19%.
The median round size at seed stage has doubled from $0.8M in 2016 to $1.6M in 2020.
Bottom-line
For brands building their own e-commerce platforms, the journey is still in its nascent stage. Rising internet penetration will push more buyers online. Simultaneously, as new businesses and homepreneurs take the e-commerce route, there will be strong demand for tools that are DIY in nature. This will give SMEs a level playing field to compete with larger incumbents. There is immense long term potential of e-commerce enabling technology. Investments in such tools and technologies will continue to increase, driving their growth story and unlocking the potential at scale.
Pentathlon Ventures is actively scouting for early-stage founders who are building e-commerce enabling tech. We want to partner and support them with expertise, ecosystem, connect and capital. Most recently, we have invested in a video based assistive technology – saleassist.ai and will be announcing a few more investments in this space soon.